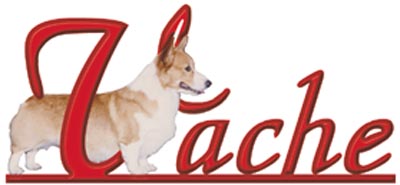 VACHE has formed a partnership with two long-time friends, Stephanie Hedgepath of Jimanie Pembroke Welsh Corgis and Linda Stoddard of Woodwynne Pembroke Welsh Corgis. We have decided to use TRIFECTA when we breed a litter in partnership. We thought it sounded better than JVW!

"Andrew" goes Reserve Winners Dog at PWCCA National Specialty
Jimanie's Phantom of the Opera
Owned by Denise Scott, Stephanie Hedgepath and Linda Stoddard
Read Andrew's special story!




Hi There! Welcome to Vache (rhymes with wash) Pembroke Welsh Corgis, owned by Doug and Denise Scott.
Vache is French for cow and since Denise has a collection of black and white cows and, as Corgis were used to drive cattle, (O.K., we know they were probably used on the black Welsh Cattle, but we like black and white ones!!) it was only natural to combine the two.

We hope you visit often so that we can keep you updated on happenings here at Vache. We are a small breeding kennel and plan approximately one litter per year.



Vache Pembroke Welsh Corgis and Shetland Sheepdogs
Denise M. Scott and Doug Scott
233 Lazy Acres Loop
Summerville, S.C. 29483

(843) 810-7230


Pegasus Web Productions and its affiliates and Vache are not legally liable for the information content of this system nor for the use of it.
..............................................................................................
©Pegasus Web Productions 1997- present. All Rights Reserved webmaster@welshcorgi.com