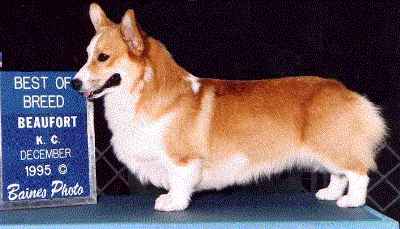 Photo by Baines
Champion Caralon's Shades of Dickens, "Shane"
Shane's Pedigree
This young red and white dog is sired by the #1 sire of Champion Pembroke Welsh Corgis in the United States, Amer. and Can. Ch. Horoko Caralon Dickens, ROMX.
Shane's grandsire is the #2 sire of all time in the US, Ch. Schaferhaus Yul B of Quanda. Yul was surpassed by his son, Dickens, in 1998. His pedigree is loaded with ROM and ROMX dogs. He is bred to produce!
I fell in love with this youngster when I saw him as a four month old puppy. I had judged for the Gaitway Pembroke Welsh Corgi Club and was visiting at Caralon after completing my assignment. After much persuasive conversation, Shane accompanied me home on the plane. He finished his championship in limited showing with three majors (a 3, a 4, and a 5!) finishing 9 days after his second birthday.
Shane is OFA certified #3002 Good and is CERF #1108. He has a beautiful outline, a lovely reach of neck, excellent shoulder assembly. He is a joy to behold in motion. A rich red and white, Shane is possessed of a sweet, easy-going temperament. He is a proven sire, and is standing at private treaty at Jimanie. He crosses especially well with English lines.