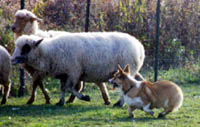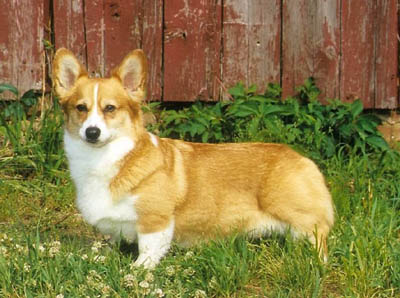 JIMANIE'S GOLDEN TOUCH
"TORRIE"
U-CD Jimanie's Golden Touch CD TD RAE NA NJP HT PT CGC C-BTA (Docna) CL2-R, CL2-F (CPE) ASCA TD
Full sister from a previous litter to CH. Jimanie's Phantom of the Opera and Jimanie's Kiss Me Kate
Torrie is owned by my dear friend, Peg Forte, in NJ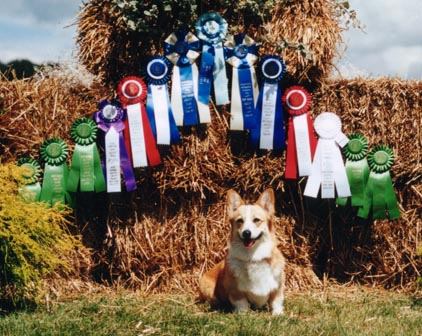 U-CD Vache's Lady of the Lake, CDX, HT, HCT, AX, AXJ, CGC, TDI
"TEE TUCKER"
(Ch. Llyswen Foreign Affair at Rumney x Caralon's Charm of Dickens)

Jimanie is extremely proud of Vache's Lady of the Lake (or Tee Tucker, as she is known to friends). Since the first weekend in October, Tucker finished her other excellent level agility title (all with 1st place), picked up her first master's leg (MXJ) and first MACH points and to cap it off, she finished her CDX with a first place over sixteen other Open A competitors. That's three new titles in three weekends in October and SEVEN titles for the year. Are we proud? You bet we are! Tee Tucker is sired by Ch. Llyswen Foreign Affair at Rumney, imported and owned by Jimanie and Foxllyn. Tee Tucker was bred by Denise Scott of Vache Corgis and is owned, trained, handled and loved by Vonda Winkler.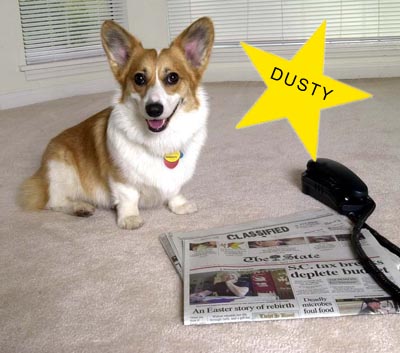 Dusty is a REAL star as she appears in advertisements on TV as well as in the newspaper. She is sired by Ch. Hallmark's Olympian and is out of Jimanie's Sweet Talker. This is a 'still' of her first commercial advertising SC's "The State" newspaper. She appears in television commercials, too. To say that her commericals are adorable is an understatement - we think she steals the show. Dusty is doing very well in the Agility arena and her full name is now
Jimanie Foxllyn Dust N the Wind,
NA, OAP, AXP, NAC, OJC, NGC, CGC, TDI
Whew, that is a mouthful!
Her best friend and trainer is Donna Bowman. Dusty was bred by Jimanie and we are so proud of them both!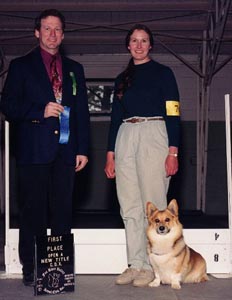 Vache's Jedi of Woodwynne, UD
"JED"
(Ch. Foxway Legacy Keeper x Vache's Wish Upon a Star, CD, NAJ, OA)

Another we are proud to claim as a 'granddog' is "Jed" owned and trained by Lori Pasche. He is shown here completing his Companion Dog Excellent title. Jed is also pointed toward his conformation championship. He is sired by "Keegan" who was shown to his championship here at Jimanie when he had been leased for a year's time. Most recently, Jed took a second place in the American Bred class at the PWCCA 2001 National Specialty show. He was bred by Denise Scott of Vache Corgis and Linda Stoddard of Woodwynne Corgis.

Jimanie, breeder of:
Champion Jimanie's Simply Southern Boy, UD "Rebel"
We are incredibly proud of him and his owner/trainer/handler,Teresa Tipton.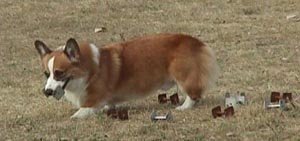 Highest Scoring Champion of Record at the PWCCA 1998 National Specialty Show! Way to go guys!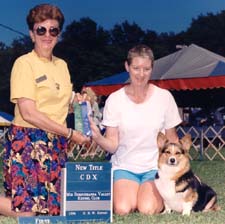 Jimanie's Black Opal, CDX (Polly) and her proud owner/trainer/handler, Melissa Erickson. Melissa bought Polly as a pup and has shown her in both the conformation and obedience rings. She is pointed toward her championship and finished her CDX in the obedience ring. Polly is working toward her Utility title and is the dam of several lovely young dogs now being shown in the conformation ring. We are proud of their accomplishments. Polly is sired by Ch. Pemland Special Request out of Jimanie's Mistress Merry C, a pointed daughter of Ch. Pennington Ramblin' Lad, ROM and Ch. Caralon's Chelsey of Horoko (dam of 4 champions).