Order Judging Reference Cards Here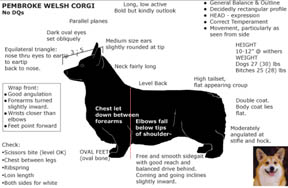 ©2007 Stephanie S. Hedgepath

Cards are $1.00 per breed or variety. Order and pay via PayPal or by check. To pay via PayPal, list what you want in an email to jimanie@welshcorgi.com and I will send you a link to pay via PayPal. If you prefer to pay by check, list what you want in an email and I'll reply with the total amount. When the check is received via mail, I'll ship the cards promptly.

I can ship two groups together for $7.50 shipping and handling via USPS Domestic Priority Mail.

Do not hesitate to order one card, if that is all you need! These cards are not meant to take the place of the Standard for the breed, but to act as a simple reference that can be skimmed over prior to judging the breed. I laminate mine and have them placed in a three ring binder with the Standard behind the card. I prop the side containing the cards up with a water bottle, etc., so that I can see the profile from the middle of the ring.


Cards will be updated as changes in Standards are made. No notification will be made for updates. You must order the updates via this website.

I am working on finishing out the Non Sporting Group and after that, will start on another group. I do plan to finish all of the AKC recognized breeds - as time permits.

Please note, not all cards appear similar to the card sown above. Plus, these cards are NOT approved by the parent club for the individual breeds. Where available, I have based my drawings on the ideals put forth by the parent clubs and have tried to indicate the breed characteristics on each card.

These cards are protected under the US Copyright Laws and should not be copied in any form without the express written permission of Stephanie S. Hedgepath.
Complete Sporting Group $32.00 + $7.50 shipping and handling Total $39.50
Current through Lagotto Romagnolo with 3 cards for Cockers
Complete Herding Group $30.00 + $7.50 shipping and handling Total $37.50
Current through Spanish Water Dog with one card for each Collie variety
Complete Toy Group $25.00 + $7.50 shipping and handling Total $32.50
Includes one card for each Chihuahua variety (2), each Manchester Terrier Variety (2) and each Poodle Variety (3)
Complete NonSporting Group $22.00 + $7.50 shipping and handling Total $29.50
Includes one card for each Poodle Variety (3)
I will combine shipping on multiple groups.
To pay using PayPal, send money with list of the cards you want to jimanie@welshcorgi.com
Jimanie
Stephanie S. Hedgepath, 131 Minnie Fallaw Rd, Lexington, SC 29073
(803) 755-1757
Email jimanie@welshcorgi.com
All text and artwork ©1997 - 2010 S.S. Hedgepath, All Rights Reserved.
Buttons and artwork on this page are original artwork and are not to be used without written permission of the author.
Permission to reprint or electronically reproduce any document or graphic in whole or in part for any reason is expressly prohibited,
unless prior written consent is obtained from the respective copyright holder(s).
Pegasus Web Productions and its affiliates are not legally liable for the information content of this system nor for the use of it.
..............................................................................................
©Pegasus Web Productions 1997 - present All Rights Reserved