Jimanie/Trifecta Pembroke Welsh Corgi Puppies

has been bred to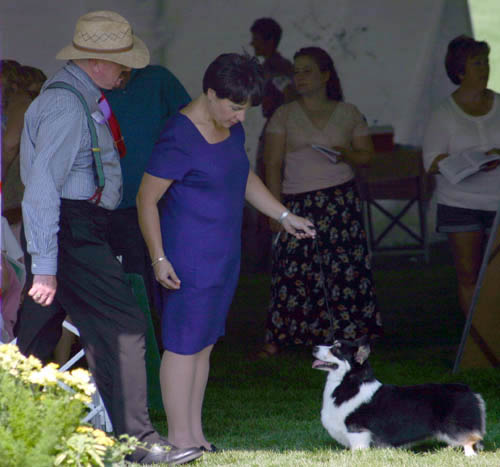 Woodwynne Bell Book and Candle
"Lily" at the 2007 PWCCA National Specialty shown by co-owner, Denise Scott
"Lily" is co-owned with Linda Stoddard and Stephanie Hedgepath
See the pedigree here.
SEVEN beautiful black headed tricolor puppies! Four males, three females. First pups at Jimanie in five years!
For more information, contact Stephanie Hedgepath
Andrew x Lily Puppies

| | |
| --- | --- |
| ZIGGY (M) now at home with Cyn and Josh Johnson, Bryn Mawr, PA | SIMI (F) now at home with Kim Clancy. Simi is now a star in Agility! Simi has not only qualified for the 2015 USDAA Cynosport World Games in Murfreesboro, TN, she did it in 3 trials! Pretty good for a beginner dog that has only been competing a year! She did it in style with 2 Team qualifiers (1 was running for a different handler!) and 2 Steeplechase Qualifiers (with a 1st and a 3rd place). We are very proud of the hard work that has gone into a very successful team |
| SWEEP is being retained and is living at Woodwynne with Linda Stoddard. Sweep excels at herding and obedience. She is a terriffic mother, too! Her first litter was born in December,2014 - NINE beautiful puppies sire by GCH Riverside Captain Orange "Crush". Her registered name is Trifecta Dress Rehearsal, BN (Beginner Novice Obedience Title) | RICKY is still at Trifecta and is being run on as a show prospect. Ricky finished his championship in February, 2013 and is officially CH Trifecta Stage Door Johnny. Ricky resides here at Jimanie with his sire, Andrew. |
| Miss Prissy, nee MISS KITTY lives with Karen Mallinger in Colorado. This is her fourth Jimanie Corgi! Prissy has matured into a beautiful, long coated Pembroke. She is the leader of her Corgi pack and enjoys directing the other Corgis in daily pursuits. | JOSH, now THOMAS, is at home with Jane Bozarth and Kent Underwood in NC. He is living the perfect life for a Corgi with his doting owners, going to ball games with Kent, riding in the convertible on warm summer days, swimming in the local canine swimming pool and being an essential part of the family. |
| Corey (formerly Wyatt) is with long-time friend, Nancy Kille (of German Shepherd fame) and is training in obedience and agility. This is a photo of Corey at 8 weeks. | |
Return to Jimanie Home Page.