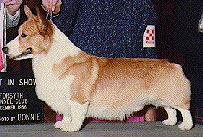 American and Canadian Champion
Jimanie Barden Billy's Boy

CD, HIC, TDI
Our interest in dogs started with Misty, a beautiful Shetland Sheepdog. Then I met and fell in love with Corgis and bought an adorable show prospect puppy by the name of Haversach's Hot Time Tonight, call name of "Wicket." Unfortunately, Wicket did not grow up to size, but he made friends far and wide and was affectionately known as "Mighty Mouse." With Wicket practicing in obedience, I was fortunate enough to acquire a wonderful dog by the name of "Higgins" who became American and Canadian Champion Jimanie Barden Billy's Boy, CD, HC, TT, TDI, my best friend and companion for eleven years. As my first successful show dog, Higgins was all you could ask for in any dog. He always showed with great gusto and made friends for the breed everywhere he went - and he went lots of places! In the show ring he would really shine and he accumulated many group placings, several group one's and even a coveted all breed Best in Show!
We miss Higgins and though we know there will never be another just like him, we do share our home with several wonderful Corgis: Champion Foxway Second Coming "Danny" and Caralon's Charm of Dickens "SarahLee ." SarahLee is the dam of Champion Vache's Pendragon of Jimanie, here in residence at Vacheand also of Vache's Lady of the Lake, CD, HT, OA, AXJ, HCT, PHC, CGC, TDI owned by Vonda Means of Virginia. She is also the dam of the darling solo pup, Robin, shown below. SaraLee was bred for her last litter to American, Finnish, Danish, Swedish, Norwegian, Nordic and International Champion Annline's Well Done, "Donnie."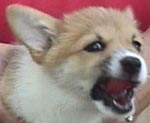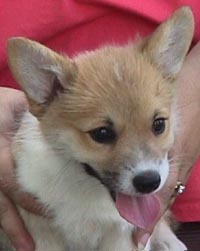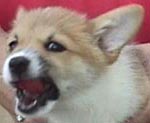 Robin ALWAYS has the last word.